Behring Jiu-jitsu Alsace
For this new article about local globetrotting, I am pleased to introduce to you Behring Jiu-jitsu Alsace, a BJJ academy located in Wintzenheim in the East of France. I take you to the heart of the region Alsace to meet Yves Mathalin and Alex Thomann, two proud representatives of the Flavio Behring academy.
Behring Jiu-jitsu Alsace
Wintzenheim and the region around Colmar (one hour south from Strasbourg) are well known for their wine road, their charming villages and fortified castles. It's here, at the foot of the Vosges Mountains and in the middle of vineyards that Yves Mathalin created the academy Behring Jiu-jitsu Alsace, a year only after he discovered Brazilian jiu-jitsu during the first seminar Rickson Gracie gave in France.
The third dan judo black belt always practised judo with a traditional jiu-jitsu orientation. That's why he naturally wanted to develop BJJ in his judo club. "I offered to open a BJJ class in the judo association of Wintzenheim but it has been refused… However it's not in my nature to give up so I shared my idea with the head of the karate association I'm also part of and he agreed. I thank him !
In 1996 BJJ finally appeared in Wintzenheim. However Yves had to avoid to speak about it many times. "Maybe I wouldn't have got my state-registered diploma to teach judo if the federal organization had known that I practise BJJ. After that people put so many obstacles into my way that I wondered if I wasn't going crazy…".
This situation shows the complicated relationship between judo and Brazilian jiu-jitsu in France which is considered to be a competitor at the national and local level. Despite of that both BJJ black belts under Flavio Behring have developped an academy based on the mestre's values. Today it counts about sixty students.
Flavio Behring jiu-jitsu : posture, precision, pressure
« Those who train with us know what these words mean!". Yves explains that teaching at the Behring academy  is based on BJJ basics. He defines them as "techniques which respect the physical integrity of the body and what you can do if you are small, tall, big, weak, flexible… Advanced techniques are adapted to the athlete's morphology. For example Marcelo Garcia has enormous thighs so he developed X and butterfly guards. The Myao brothers are very flexible which is practical for berimbolos. Once you master your orthography and grammar, you can write and understand most of the BJJ language complexities ».
A knowledge that Flavio Behring himself teaches in his club twice a year. He is close to his students and "makes no difference between people. He's very open minded and his word is gold" underlines Yves.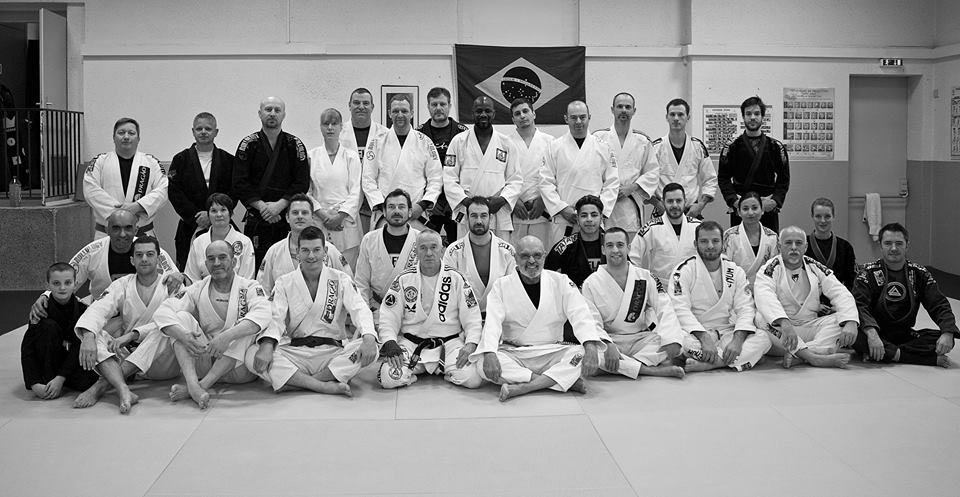 I had the chance to see these qualities twice, the true and respectful relationship between the master and his students during seminars the academy organizes. While some well-known figures of BJJ behave like divas, Flavio Behring shows a modesty that is equal to his experience. He adjusts his class to the students and answers all questions without balking, and all this in a nearly perfect French.
Personnal and technical development
La transmission d'un jiu-jitsu au plus proche de celui de la famille Gracie est une chose importante pour Yves.
A really important thing for Yves is the transmission of a jiu-jitsu that's the closest to the one of the Gracie family. After having been a Rickson Gracie affiliate, he wished "a continuity and the same original approach. Flavio Behring was Helio Gracie's student. I couldn't have found better. I find in him the origin and the founding principles of jiu-jitsu. He also has an unlimited technical knowledge… I nickname him the bible".
Beyond techniques Flavio Behring is an inspiration for Alex : "one day the Master told me "if you want to roll, find a partner. If you want to train, find a coach. If you want to learn, find a professor. If you want to understand, find a major Master".  It took some time to measure this sentence maybe because of a lack of maturity. However I often think about it when I see him explaining something.
His teaching also helps personnal development : the jiu-jitsu he teaches can be used for any situation and at anytime of your life." Alex adds "we have an incredible chance to have a mestre as a learning source. However it needs a long-term undertaking with many investment to keep his legacy alive". Nowadays I have also the chance to be a professor in a Behring academy in Denmark and maybe in the near futur in Germany. It wouldn't be possible without Flavio's trust".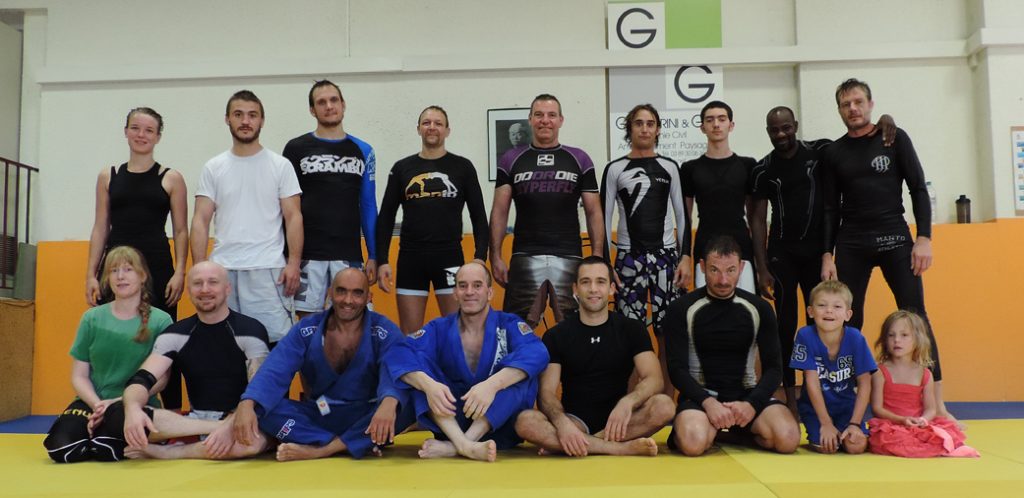 I can see this vision and approach of jiu-jitsu each time I visit this academy and I like to confront them. Each fighter has for first aim the submission and doesn't restrict his game to the technics IBJJF approved. A return to BJJ roots and its self-defense aspect which oblige me to review my game and to get out of my comfort zone. Moreover I appreciate the time the members of the academy take to explain and speak about technics and the fact that they are very kind and welcoming . So I have one word to finish : thanks!
Technique of the day
Alex shows an open guard pass with a footlock in noi-gi:
After training
Wintzenheim is located on the wine road: a nice itinary punctuated with charming typical villages and fortified castles. You will be charmed by half-timbering houses, quaint streets and many wine cellars to taste local wine.
Alsace is well known for its generous and convivial gastronomy. You will find many restaurants to discover the local specialities. To digest you will like to have a walk in the wineyards or the many hiking trails in the Vosges Mountains.