BJJ lifestyle at Lange's MMA
Back on mainland for the last Australian stop of this BJJ trip. Major city in Australia, Sydney is also an important place for Brazilian jiu-jitsu! I invite you to Lange's MMA academy to meet Anthony and Nikki, a couple who lives at the pace of Brazilian jiu-jitsu.
Beach & BJJ lifestyle
More exactly I went to Manly, a suburbia 30 minutes ferry away from Sydney. Immediately after landing I was in the heart of the Australian beach culture. In the middle of the crowd ready for a surfing or beach-volley session (or simply to eat an ice cream on the seafront…), I saw a t-shirt with the logo of a famous Brazilian jiu-jitsu academy (I might love this place!…).
Anthony Lange: the pioneer in Brazilian jiu-jitsu in Sydney
And for a good reason: during my stay I trained at the academy of Sydney's BJJ pioneer. Anthony Lange, third degree black belt under John Will (Machado BJJ Australia), was the first to practice BJJ in Sydney. Since 20 years (10 years as a black belt) he teaches Brazilian jiu-jitsu in his academy.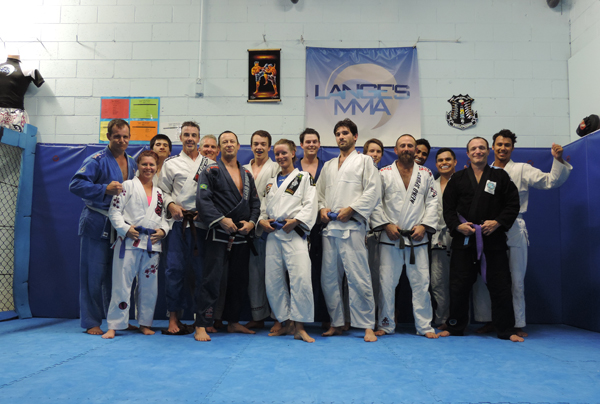 With a team of around 15 instructors, they also offer BJJ, MMA, Arnis, wrestling, boxing and Thaï boxing classes.
A martial art expert
Over the trainings I discovered that Anthony has a martial art experience which goes beyond Brazilian jiu-jitsu. He counts 6 black belts in Shoot System, Kickboxing, Corral Arnis, Karate, Stav and of course Brazilian jiu-jitsu.
There are also witnesses of his past as a professional fighter: old posters and pictures, many medals which now stand alongside those of his students, his sons and his wife.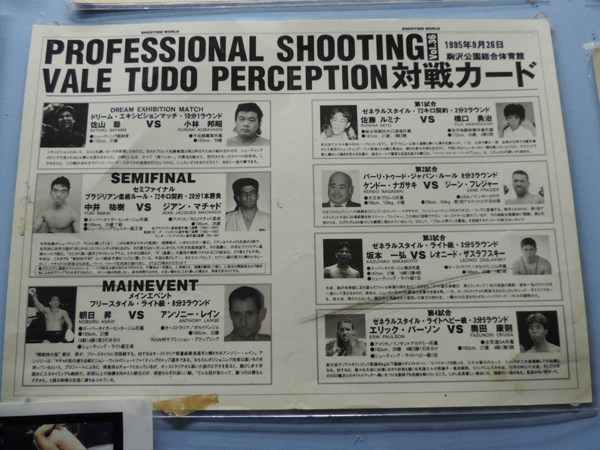 Brazilian jiu-jitsu: effective and nonviolent
Among all the martial arts he practices, Anthony prefers Brazilian jiu-jitsu. It is the most effective for him. Anthony appreciates that you can fight without hurting yourself and thus without age limit. "You can choke your opponent, talk to him and choke him again if he still wants to fight" he laughed.
The joy of training first
Being happy to train is for Anthony the key element in Brazilian jiu-jitsu's practice. Competition is secondary. A philosophy you can feel during his classes. Throughout the week Anthony offers one hour Brazilian jiu-jitsu classes (starting 5:30am for early birds!). I was used to longer classes and was a bit afraid to be disappointed. Finally in one hour we did all the steps of a BJJ class: warm-up, drills, technique with details for MMA and rolls. A method I found effective and moreover executed in a joyous atmosphere!
Here is some technique we worked on during my stay, a spider guard pass:
Nikki Lange: feminine jiu-jitsu
Good mood also defines Nikki, Anthony's wife. From the first meeting she marks you with her dynamism, her kindness and her smile. Nikki has been practicing jiu-jitsu for 4 years. With her flowery Gi, nail polish and hairstyle, she's a woman on the mat and claims it. She feels women do not fight and behave like men, so this femininity on the mat can be a source of wealth. Just make use of it.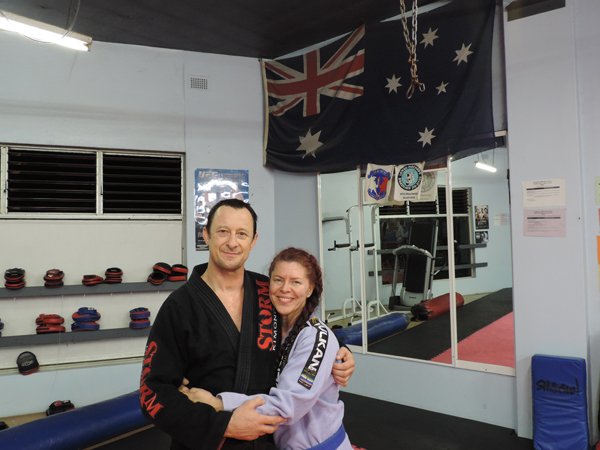 To develop female Brazilian jiu-jitsu
It is one of the couple's will. Both in competitions where she's ranked n°1 in her category in Australia and at the academy, Nikki is involved in developing female BJJ. With Anthony's support she has created a "women only" Brazilian jiu-jitsu and self-defence class. "In only two months, she got 10 women on the mat!" highlights Anthony, proudly.
The feminine environment she has created is one of the key of her success. With no men allowed, this class is a place of confidence and exchange where women can discover Brazilian jiu-jitsu without apprehensions. Training has become a real time with friends (even between mothers and their daughters!) based on dancing warm ups or funny pics in Gi at the end of class.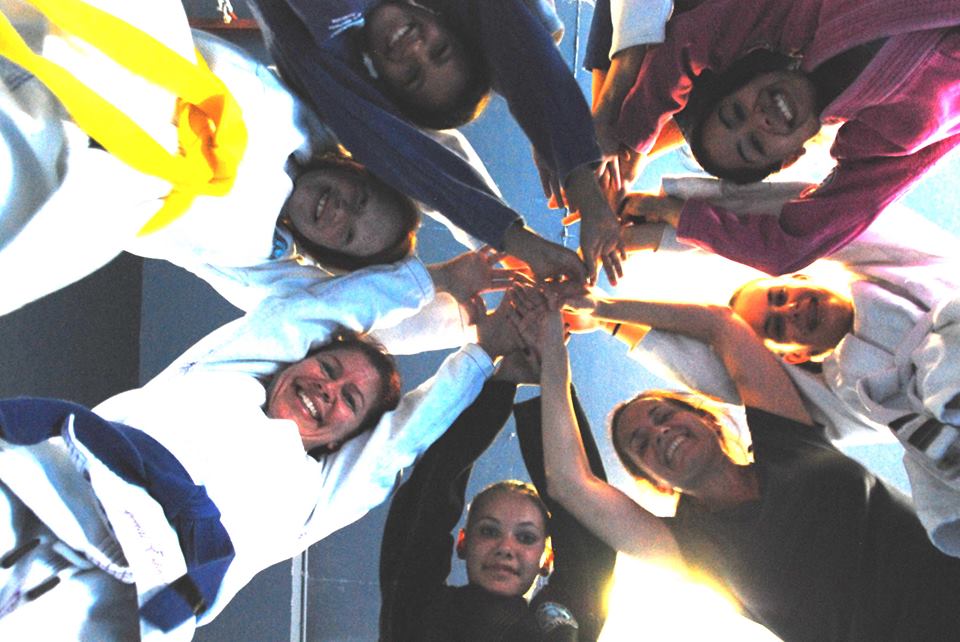 Create an appropriate environment for women in Brazilian jiu-jitsu
During the class Nikki also talks about problems women have to deal with on the mat. From the most appropriate gear to wear, to how to handle rolling with men and the proximity it involves, all subjects are discussed. Becoming more confident some of her students do not hesitate anymore to assist at mixed classes (like women in Gracie Barra Cyprus).
Anthony then takes over in his role as instructor. This work is very important to him especially when women become advanced (white belt with 4 stripes or blue belt). Sometimes men are surprised by their female opponent's level and they use more strength than necessary. That's why Anthony designates pairs like in Brazil to make sure these women roll with partners from the same or a superior grade. Rolls then become more technical and benefit both partners.
In Aussie, female jiu-jitsu practitioners federate!
During my trip in Australia I was surprised by the number of women practicing Brazilian jiu-jitsu and their commitment. They grouped together in networks such as Australian Girls in Gi or New South Wales Women's BJJ Network. Livia Gluchowska (who I met at Maromba, Melbourne) introduced me to the New South Wales Women's BJJ group so I could find a place to train in Sydney. A big thank to Livia for her help, to Nikki and all the other members who invited me but unfortunately I didn't have time to visit everyone.
A very big thank too to Anthony, Nikki and all the Lange's MMA members for the welcome!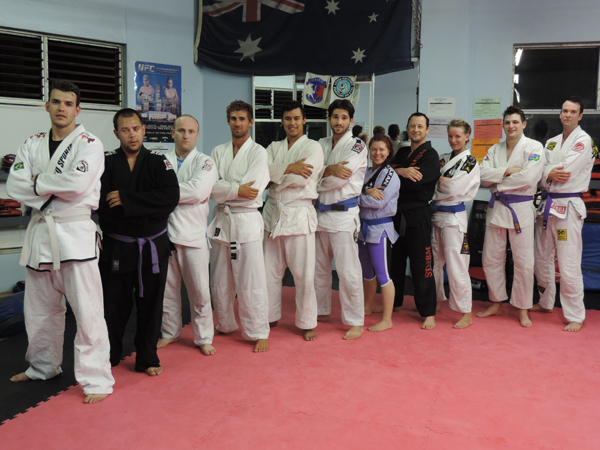 After training?
Manly is a place with a sweet life. It's a nice place to surf, to play beach-volley, to swim in seawater pool or relax in a calm cove (the famous Australian way of life?).
You can spend a nice moment there, around a good meal (especially in a Greek restaurant on the seafront, where the boss loves France and martial arts!), having a drink or tasting some good coffee (this is an art in Aussie and people down under know how to do good ones!).
Manly also has many shopping possibilities with international brands or more hipster style shops.
To discover others beaches and more quiet places, just head north!