Brazilian jiu-jitsu in Hobart
For the last stop in Tasmania, let's go to Hobart to meet the team Maromba South!
Team Maromba South
The academy is directed by Adam Newton, the Brazilian jiu-jitsu pioneer in Tasmania. Already expert in Muay Thaï and judo, he discovered BJJ in 1996 by attending a John Will's seminar (1st Australian BJJ black belt) and from then on he quickly improved his technique. He will be the first Tasmanian to receive a Brazilian jiu-jitsu black belt.
Adam also managed to bring together an enthusiastic group of students of whom Gerry Young (brown belt), Peter Rogers (purple belt) and Deb Cameron (blue belt and an experienced female competitor). They have become instructors and mainstays of the academy. Experts in other martial arts, they are now passionate for Brazilian jiu-jitsu and daily contribute to the academy's life and development.
Thanks to them a good atmosphere reigns in this group, especially with Gerry who always has the right word to make you laugh! For me it's also a good mean to reach one of his goals: the more fun you have, the more you will love jiu-jitsu. Once you feel at ease on the mat, you just have to embrace Brazilian jiu-jitsu and its techniques.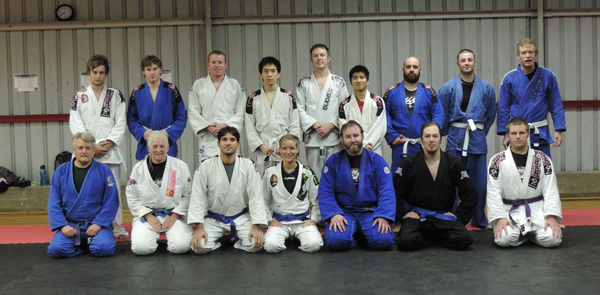 Personal development through Brazilian jiu-jitsu
Beyond Brazilian jiu-jitsu's sports, self-defence or MMA aspects, Gerry has also found in BJJ a mean to challenge himself and to grow as a person. A vision you can feel in the way he teaches. He shows in a very educational way a technique and over the following classes its numerous variants (we studied sweep from the butterfly guard with Adam and Gerry during the two weeks I spent in Hobart). I find interesting to see how to go from one technique to the other. You have to understand the concepts to evolve through the techniques. From then on everybody is free to develop his own game!
As a big supporter of the Straight Blast Gym (SBG)'s teaching, Peter shares this approach. To a classical master-student way of teaching, SBG highlights the group's strength in the martial arts' learning process. SBG focuses its vision on the "catch as catch can submission" and encourages its members to exchange, experiment and innovate.
Concretely students at Maromba South Hobart are invited to question on techniques of their choice during the "Questions & Answers" session at the end of the training. During this exchange, the instructors preferably give answers based on concepts rather than on details, with a constant efficiency and realism goal.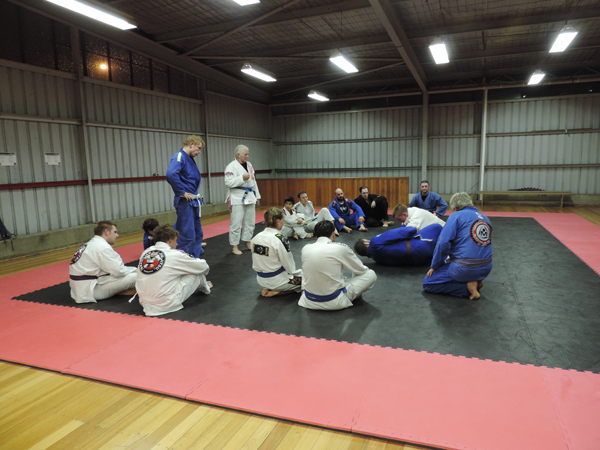 The different sequences are also an interesting aspect of the class: warm up, rolls then techniques (and even some more rolls after that, for fun). I appreciated this rhythm because it obliges to be more lucid during the technical work and thus you do not cool down before rolling. Demonstration with the technique he shows us after two hours of an intense training!
Memorable meetings
For this Tasmanian BJJ trip I owe a lot to Gerry. Besides his fabulous welcome, the BJJ Globetrotters' member introduced us to the Launceston and St Helens's academies. Thus he offered us very nice meetings and super moments on Tassie's mat!
Thanks a lot to Adam for his warm welcome, Peter for his availability and for sharing his Brazilian jiu-jitsu knowledge, to Deb for meeting us despite of her busy timetable and for our talks about feminine BJJ in Australia. Thanks to the photographer and to all the Maromba South Hobart team members!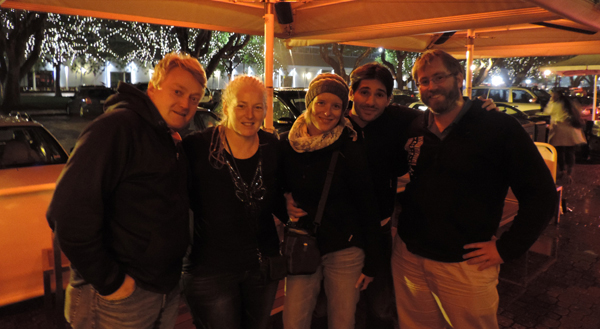 I inform you that the Maromba Academy from Hobart is now "affiliated" with BJJ Globetrotters. So don't hesitate to contact them and visit them, you will spend nice time there!
After training?
The state capital city of Tasmania is a peaceful harbour that livens up in the evening! Music is very present in Hobart and you will easily find many concerts or gigs in the city's pubs.
During the week-end you may stroll through the organic market's aisles, discover local products at Salamanca market (wool clothes, jam, wooden objects…) or take the time to taste some whisky at the distillery. Visit the MONA, a surprising modern art museum or discover the city's history. Hobart is the second oldest capital city in Australia after Sydney.
Nature is very present and diversified on the rest of the island: Freycinet National Park's white sand beaches, primal forest in Mont Field National Park (Gerry's favourite!)… Surf and extreme sport lovers will enjoy a nice walk to discover the famous the Shipstern Bluff spot.
Hobart
Local farmers' market

Salamanca market


Honeymoon bay Freycinet National Park
Wallaby Freycinet National Park Tasmania
Mont Wellington
Mont Wellington
Mont Wellington
Shipstern bluff surf spot
Organ Pipes Mont Wellington
Mont Field National Parl Waterfall
Mont Field primal forest Tasmania
Tasman National Park Tasmania Australia