Heading for YBJJ Academy
Yannick Beven and his academy's story is a good example from what Brazilian jiu-jitsu and surf can engender. Direction Capbreton to discover YBJJ Academy.
One mat, one story
As it often happens everything begins with meetings. For Yannick Beven it was with Royler Gracie and the Ze Marcello. The first one made him discovered BJJ and the latter got him on the mat to gave him the black belt.



The group of friends has also extended. YBJJ now counts around 30 adults and 10 kids. A solid group, animated by a strong togetherness which they frequently prolong for surf sessions. The lifestyle attracts pro surfers (Patrick Beven or Miky Picon for example, both purple belt) or amateur surfers on the academy's mat and it has also converted uninitiated to surf!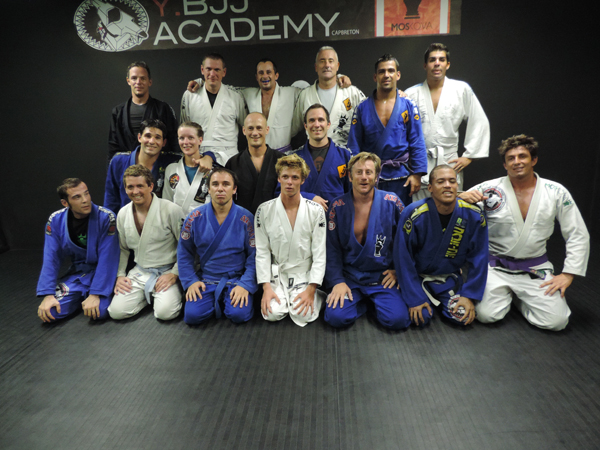 Team spirit and dynamism follow the members of the academy to competition (around ten of them went to the 2013 European championship!) and push some of the Brazilian jiu-jitsu's great names, Yannick's friends, to visit them to train or surf (Ricardo Arona, Ze Marcelo to name a few!).
Priority to technic
On the mat, Yannick, François and Mathias (the two other instructors) all focus on the technic. Effectiv grips and various technics are used in a flexible way and make each sparring becoming a great moment of Brazilian jiu-jitsu (it was a pleasure to roll with you guys!).
Physical workout is not outdone! Around one hour drills and strength training open each training session.
The technic of the day?
François will present us a sweep from the open guard :

Here is a variant on a oponent's defense :

After training?
Surfing of course! Les Landes count most important surf spots of the French west coast and Hossegor hosts the professional circuit. Good waves and good parties will be there.
Thanks to Yannick, François, Mathias and all the YBJJ team members for the warm welcome!
It was a pleasure to exchange with you guys about Brazilian jiu-jitsu and surf.
See you soon !
Oss !