How to choose the right sports bra for BJJ?
This is not a pleasure cruise. With different shapes, designs or kind of sizes… Choosing a sports bra that's fit to do Brazilian Jiu-jitsu and adjusts to one's own morphology might be like a real battle.
Why using a sport bra instead of a classic one ?
First let me talk about the woman's body. The breast has no muscles and only one ligament supports it. While doing sports the breast undergoes more or less abrupt movements, as well as speed and repetitive impacts. The breast weight can then be multiplied by 3 to 5 times its usual weight.
So wearing no bra or an inappropriate one can cause pain and damage to this ligament. With time the natural breast support can also be affected and its aging accelerated.
Classic bras are not designed to endure these repetitive impacts. Those dedicated to sports can limit 70% of the breasts movements. So choosing the right bra should be as important for you as choosing a new gi or rashguard.
What kind of sports bras to choose for Brazilian jiu-jitsu ?
What about the sports bra impact level ?
The level of support is the first thing you have to consider when you choose a sports bra. There are different levels depending on the sport you practice :
Sports with a low impact like yoga.
Sports with a strong impact like fitness or skiing.
Sport with a very strong impact like Brazilian jiu-jitsu, running, riding, tennis or volleyball etc.
Brassiere or sports bra ?
What's the difference ?
A brassiere is made up of a one tubular piece and is wireless. It compresses the breast to ensure the support. This kind of bra is adapted to low impacts sports.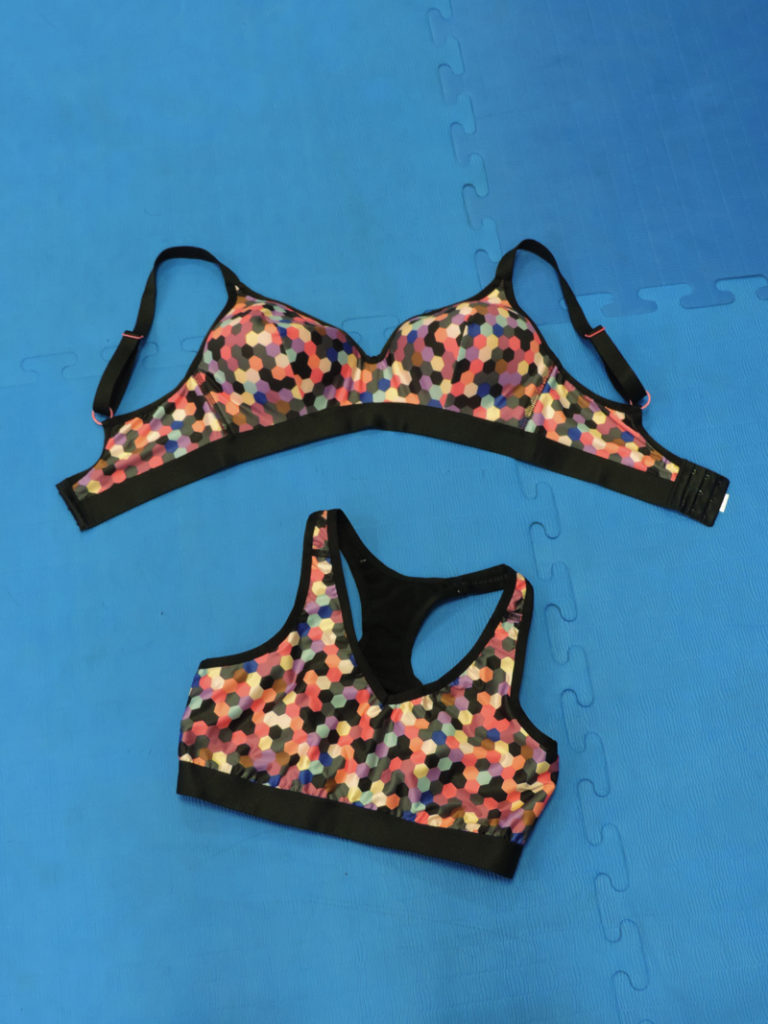 The sports bra's cup is composed of one or several pieces (it would be too easy otherwise…). In the first case, cups are molded on a form and support separately each breast. In the second case the mounting of the differents pieces of the bra will create the cup volume. There might be wires or not. More than just compressing the breast, this kind of bra is specially tailored to support the breast while doing sports.
With or without cleavage?
Whatever the kind of cup you chose, you should have a preference for a bra with a good coverage. Of course you won't have the best looking cleavage but you will feel more at ease, moreover if you train without a top under your gi : your breasts will stay where they belong to and you won't risk that they clear off while doing a sweep or if your partner takes a wrong grip…
What about the back of your bra?
The X or Y back forms (also called racerback) allows you to do easier moves and gives you a better support. Another advantage is that straps won't fall down! If you don't like this shape take a bra with large strap which does not cut into your shoulder.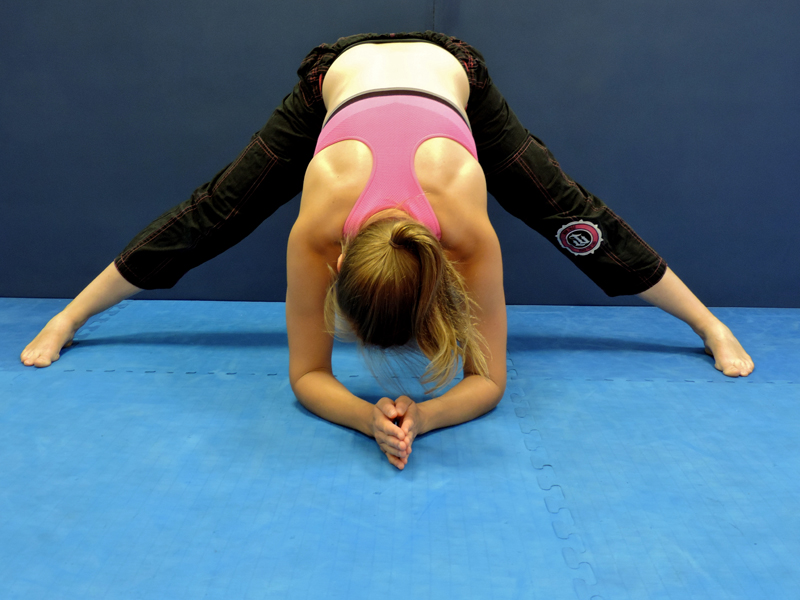 What to take for big heavy breasts?
When I practised judo I saw girls with heavy breast wearing two bras to have a better support. Ladies, please forget this method. It gives you a false feeling of support and if you come to that, the reason is that you are wearing an unadapted bra.
Make large straps your first choice : they limit the breast movements and will offer you more comfort. You should also better choose a molded cup, with a rigid lining or with seams. It's your best ally with its double support.
With or without a front closure?
Two kinds of bra closures exist : Front and back. The closure has no impact on the breast support. So choose the one you find the more convenient.
Nevertheless, hooks might annoy or hurt while doing Brazilian jiu-jitsu, for example when you are lying on the back with your opponent's weight pressing on it. It's the same with a front closure bra if you are controlled with a knee on your belly.
Material and accessories
Material
I insist once again: sports bras and brassieres are specially tailored for sports activities: the design but also the fabric. The mesh is breathable and even sometimes patented (those with an hyper cool name that you can read on the label). They also reduce the risk of skin irritation.
Elastic but not stretch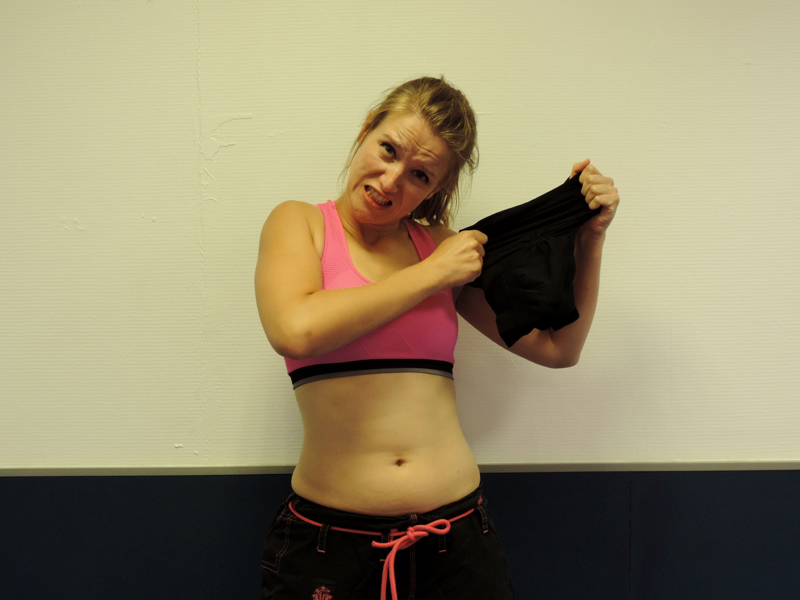 Don't hesitate to hold the product, to touch and stretch it. If the fabric is as stretchy as a stretch jeans, choose another bra. To support the breast the product has to stretch, above all the elastic strap. However the lining has to limit the breast movements (otherwise imagine how your boobs would go flying in all directions…). To recap: the product has to adapt to the breast movements while supporting it.
Soft elastic straps and seams
Don't forget this point. Elastic straps have to provide a good support but they shouldn't make you suffer. It's the same for the seams, otherwise each move will be a torture…
Do you really know your bra size?
The classic bra size
I will talk briefly about this because 80% of women don't choose the right bra size. Beyond the breasts hanging out or conversely half-filled bras, you should know that a bad choice of bra obviously leads to poor support but also poor posture or back, neck or shoulders pain.
So before talking about sport bras, arm yourself with a tape measure and a non padded bra. We will talk about basics. The bra size is a combination of :
the band size which is the measure of your chest,
the cup size which is the measure of your breast.
Place the tape measure horizontally on your breast for the first one, and on the breast points for the second one. To know your size you will then have to refer to a measure table that lingerie brands provide.
Which size for a sport bra?
Now that you know which type of bra and size to choose, let's talk about the sports bras sizes puzzle. Indeed the battle is not over!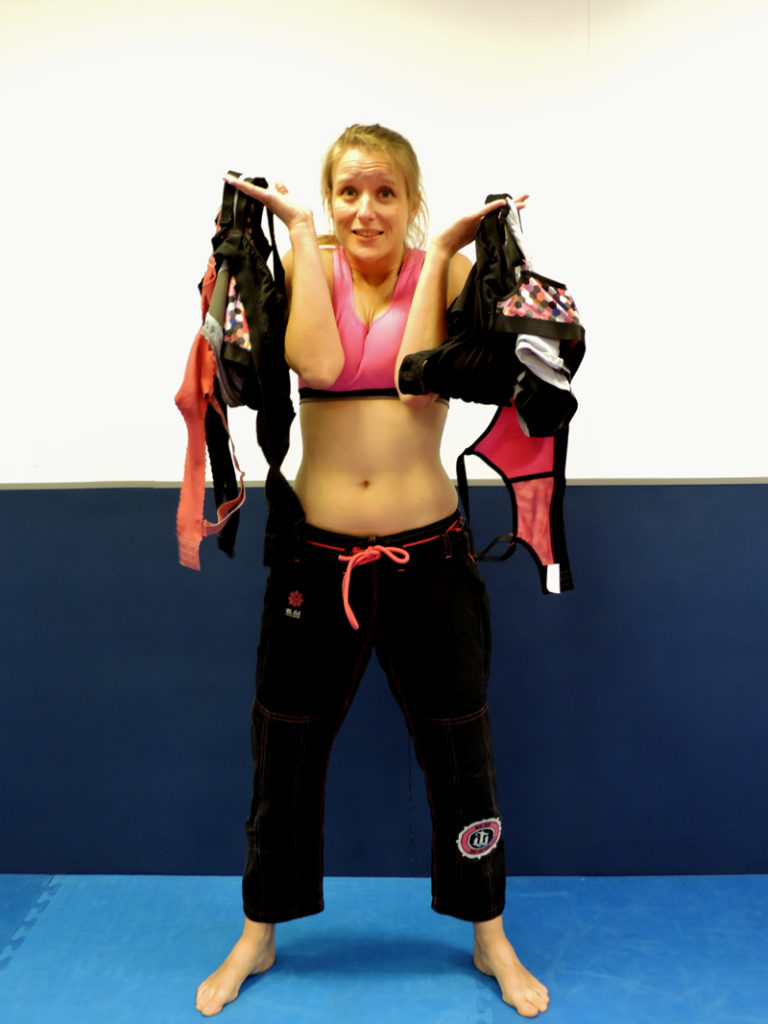 Most of the time you can choose the same size than for classical bras. If you like the bra to be tight, choose a smaller size. S, M, L, sizes are often used for brassiere. You may wonder why they do that… Don't panic, brands have size charts to indicate the equivalence. If not you only have to ask them.
Some tricks to be sure you wear your bra the right way
Let's go to the fitting room
Try on several type of bras before buying one. You will see which cut and support fit the most. So fill your shopping bag and rush to the fitting room.
Put on the bra from the front (you will work daily on your shoulders mobility), place your breast correctly inside the cups. Then close de bra and adjust the straps until you feel supported. It's time to look at yourself in the mirror and to check if the band is parallel to the floor.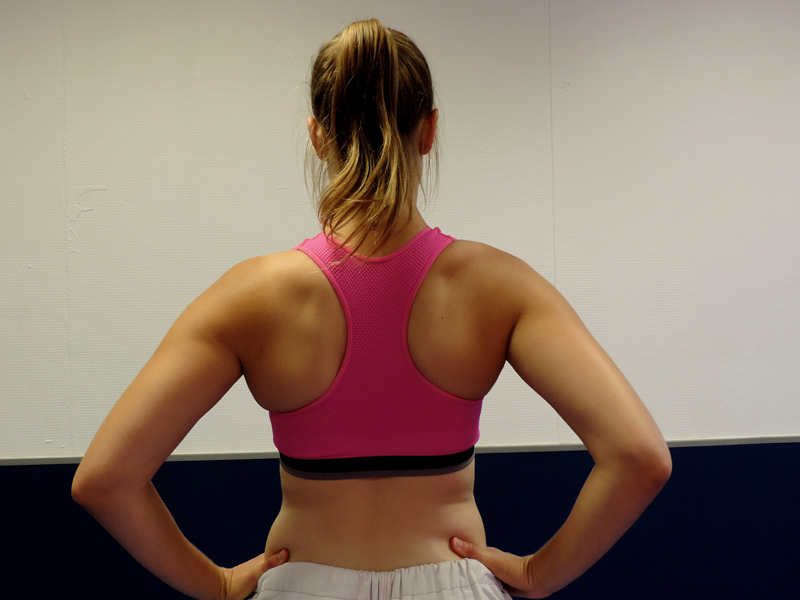 Now move to be in a real situation
And there you go ! Put your arms up, jump on the spot… Well, merchandise has to be tested! What do we have to check ? Here is a list:
The elastic band under the breast has to be parallel to the floor, should not move, or be too tight or arching up.
If you chose a wire bra, the part between the two cups has to be flattened against the breast
The cleavage has to be plastered against the breast but should not cut it
The wire should go back far enough to embrace the entire boob without digging into the breast.
Straps shouldn't be too loose.
Cups shouldn't cut you boob
To finish, be sure that the seams don't irritate your skin while moving
Adapt straps without tying you up!
The band under the breast is the main piece that ensures the support. So adapt the strap tightness without cutting into your shoulder.
Which lifespan for a sports bra ?
You might read in some magazine that a sports bra's lifespan is 6 month. If you use and wash it normally, in other words by following the indications written on the product label, it is superior. Check the support of your bra regularly as seen before and throw it away if it failed the test.
Sources : Lemoncurve, Avantage, Triumph, mes chères collègues de Wolf Lingerie
Many thanks to my friend Carina for the pictures and to Cross Fit 67 for let me use their dojo.