Luxemburg: a BJJ paradise?
As I was looking for a Brazilian jiu-jitsu club in Luxemburg it brought me in a bucolic place to discover the Fight Team Impact. Located in Livange (20 minutes from Luxemburg city), the Carlson Gracie academy offers many BJJ, grappling and other combat sports courses.
« Moien », « Hello », « Bonjour », « Bom dia »…
The first thing that strikes me was the cultural diversity and the various used languages. Surprising? Not that much. As a small country located in the heart of Europe Luxemburg benefits from migratory dynamics because of its financial activities and as the headquarters of several European Union Institutions. You can meet fighters from all nationalities.
It becomes ludic particularly when counting the drills. One may learn in a short time how to count in Portuguese or Luxemburgish! For some people it might be a barer but it also brings diversity in jiu-jitsu styles. This becomes richness for all the team members. BJJ is universal and we understand each other better on then outside the mat!
Coach Bartolomé Aguilera
Wrestler in Greco-romaine style for 7 years, Bartolome Aguilara (allias "Tolly") became passionate by combat sports. He practiced ninjitsu, jeet kune do, kick boxing, boxe thaï, kali, grappling et shooto pancrace. Besides he distinguished himself at European high level: he is double European champion in grappling and pancrace European champion (oss!).
Expert both in hand-to-hand combat and in striking, Bartolome decided to learn Brazilian jiu-jitsu after an European championship final he lost on the ground. To strengthen his ground fighting techniques he travelled a dozen times to Brazil since 2002. Each time he trained for 3 or 5 weeks at Carlson Gracie academy.
His initiatory trip didn't stop there. Los Angeles, Las Vegas, Boston were the next steps of his trip to discover different kinds of Brazilian jiu-jitsu. He finally completed his cursus by 3 month and a half of intensive training in MMA by Erik Paulson.
Carlson Gracie Luxembourg: 10 years of existence
Today he shares his knowledge with his students. After 6 years of training in his cellar converted as a dojo, Bartolome founded the Fight Team Impact which just celebrated its 10 years. The team counts about 60 members including:
2 black belts
4 brown belts
10 purple belts
10 blue belts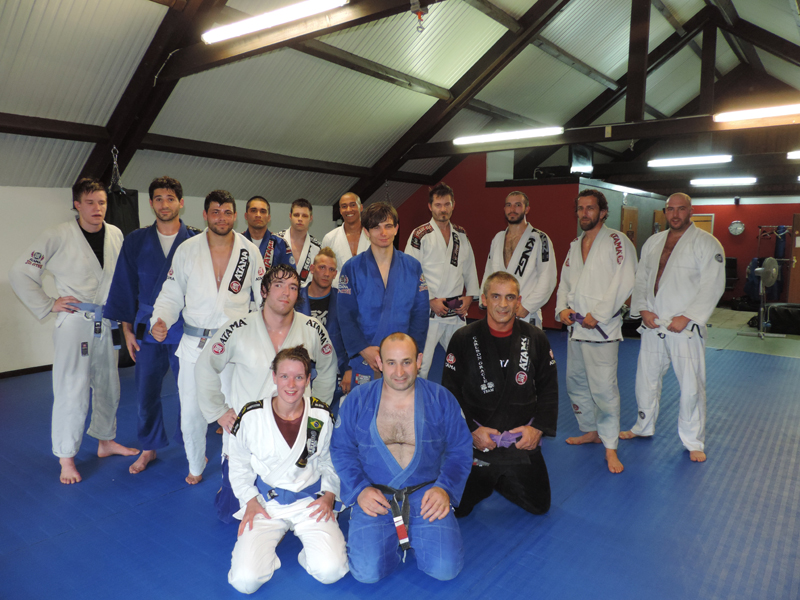 In addition to Brazilian jiu-jitsu courses, Bartolome also teaches grappling and MMA. The Fight Team Impact invites you to practice Muya Thaï with Claire Haigh (W.P.M.F. double world champion and pro. League world champion) and Kali Silat with Franck Ruppert. 
Bartolome's technique
Armbar from the side control
Bartolome proposes to present a side control attack when the opponent (here Jeff) defends by blocking both the neck and the hip.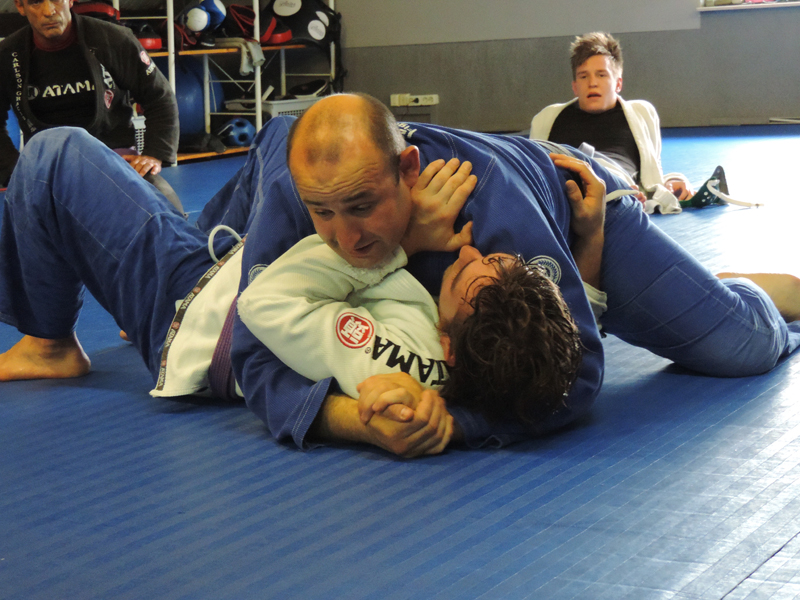 Step 1:
Tolly passes his left arm (which was under Jeff's head) over his shoulder and puts his elbow on the ground. The right arm passes over Jeff's body in order to control the opposite hip. Then Tolly turns in the north/south position and in the same time, he lifts his left arm along the belt.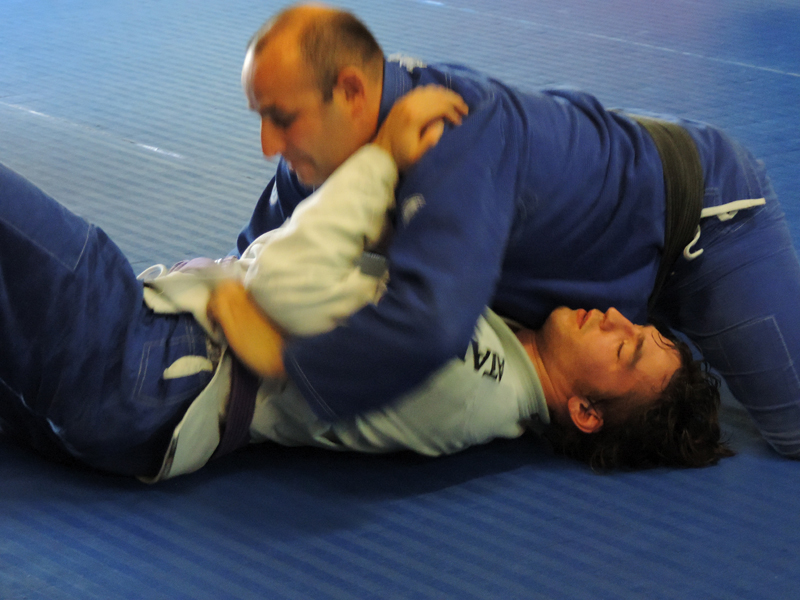 Step 2:
The left arm on Jeff's belly is situated over his elbow to be used as a lever. Jeff's arm is also controlled by Tolly's shoulder. To finalize the armbar he put the pressure down on Jeff's arm with his right hand.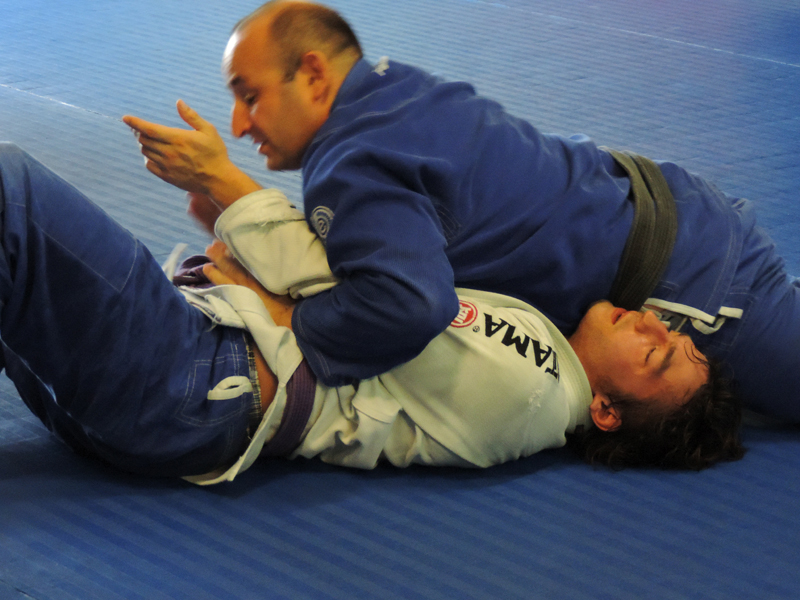 Kimura from the side control
Bartolome shows a finalisation when Jeff defends a kimura by holding his belt.
Step 1:
Tolly's left hand let go his wrist to hold his right biceps.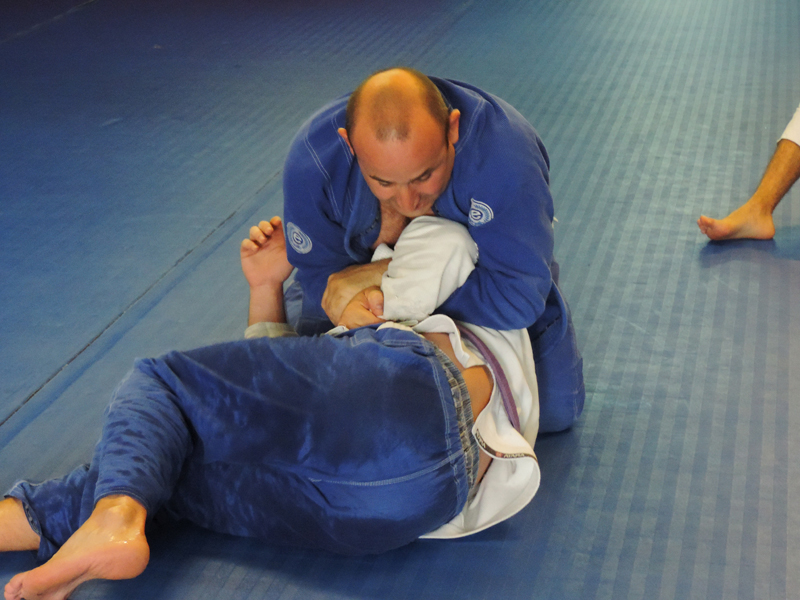 Step 2:
Tolly put his right elbow on the floor, next to Jeff's left hip.
To finalize the shoulder lock, Tolly pivots his pelvis to outside and to the top. In the same time he puts the pressure down on Jeff's arm.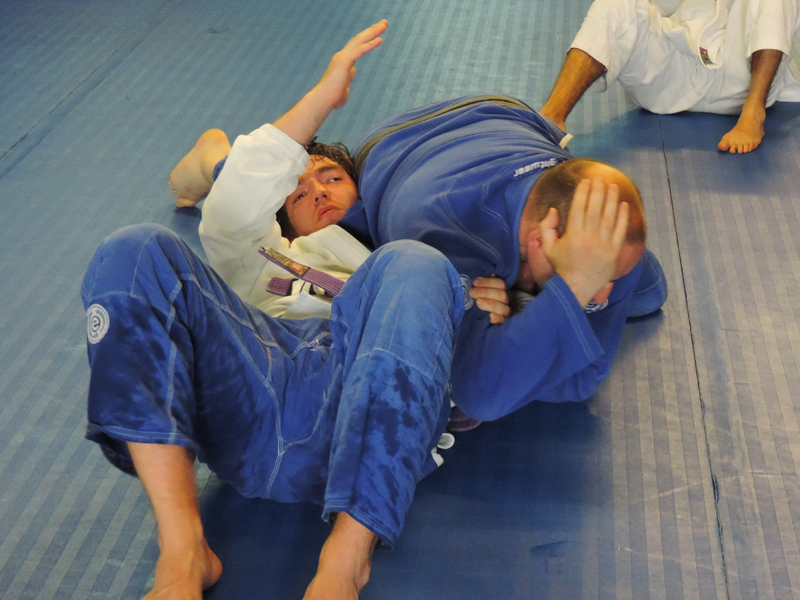 Brazilian jiu-jitsu: a well-established sport in Luxemburg.
Luxemburg benefits from a good dynamic and many sports facilities, more particularly for martial arts practice. In addition to the long list of combat sports possibilities (see Bartolome Aguilera's sportive CV!), the country counts 4 Brazilian jiu-jitsu clubs for 530 000 inhabitants.
After training?
Capital city ranked at the UNESCO Worldwide Heritage, Luxemburg city has many places to go out on the Clausen or the Grund riverside. You can also discover the city's charms by walking a few hours in the old town or along the ramparts.
For more information and to see more of Luxemburg don't hesitate to ask Tolly or his students. Some of them know and even own some really good places in town. Until you visit Fight Team Impact, I invite you discover more about the city on a backpacker friend's website.
I let you in the hands of a backpacker friend who has already been in Luxemburg.
I want to thank Bartolome and all his team for their warm welcome during my stay in Luxemburg. I really appreciated to be on the mat with you.
Thank you and see you soon!
Oss!
Here is an overview of Luxemburg city:
City center
City center
City center
Clausen riverside
Old ramparts
Adolphe bridge

Spuerkess tower
Alzette river in the Grund
The Grund
Neumünster abbey
The Grund
The Grund
Flag of Luxemburg
Alzette river
Old breweries in Clausen.
Old ramparts
Clausen