Maristé puts comics to Brazilian jiu-jitsu
With the points of her pencils Maristé expresses with humour and perceptiveness her life as an expat and as a female BJJ practitioner in Vietnam. Here is a description of the cartoonist and BJJ artist.
Showing the expat's daily life in Vietnam
You may already have seen some of her comics. The young French woman loves Asia and decided to live there. With her drawings she shows her adventures over there and analyses with humour great or difficult moments. So she can keep only the good things of them. Indeed the expat's lifestyle suffers from many clichés. "As an expat, we meet many people who become very depressed or racist after an experience abroad. On the contrary non-expats consider us as eternal holiday-makers". That's why she quashed these received wisdom and shows us her daily life with a lot of intellect.
Escape from difficult situations thanks to BJJ
The martial art has naturally taken place in her comics since she started BJJ one year ago. She discovered it when she lived in Singapore and today she is completely a fan! At the question "What do you particularly love in this martial art?" she immediately answers that "it would be easier to sum up what I don't"!
She especially loves BJJ's mentality. "Beginning is difficult, frustrating and we can easily be discouraged. Apart from trying to survive we can't try the techniques we learn". We can note BJJ's benefits only after three months. Brazilian jiu-jitsu teaches that "we can escape from difficult situations and turn them to our advantage. It helped me to regain control of my body, to surpass myself and to get confidence in myself while I went through very difficult moments".
Brazilian jiu-jitsu: good for the body and the mind
Maristé doesn't like fitness gyms. So another BJJ's asset is that it permits "to tone up harmoniously all her body". It also helps her "to study anatomy, to understand how the body works. It's a real advantage for me to progress in drawing". Have a look at her drawings, sounds like it works well!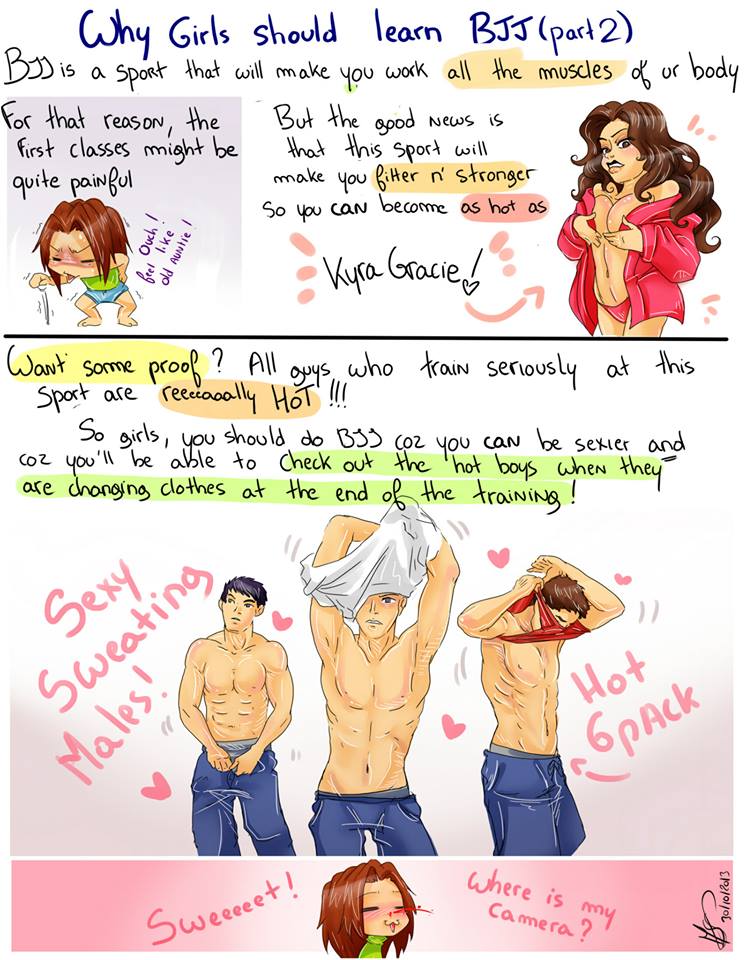 Brazilian jiu-jitsu's start in Vietnam
Her story also shows that Brazilian jiu-jitsu is a formidable "socializing tool". It allowed her to meet excellent friends in Ho Chi Minh City (Vietnam), where she trains in a young academy, "Saigon Luta-Livre". A small gym held by an American and where there's only place for 6 students at one time, "almost private classes! We train most of the time no-gi because most of the student can't afford a Gi. With 30°C and 80% of humidity it suits to everybody!"
Like judo, Brazilian jiu-jitsu is not well developed in Vietnam. "Here most of the people do Kung-Fu, Karate or Vovinam, a traditional Vietnamese martial art". Only 5 academies teach Brazilian jiu-jitsu, all are held by expats.
Jiu-jitsu also suffers from many clichés in this country. Her expat friends generally undergo somewhat homophobic comments. "I strongly invite these people to come to a class and judge how gay an arm bar is. In general the more a guy has prejudices on BJJ, the more he will become a fan…"
Women and BJJ: still a difficult situation in Vietnam
The situation is less developed for female practitioners. "I think we are 4 or 5 female who practice Brazilian jiu-jitsu in Ho Chi Minh City". The main reason is that "women consider the ground position and the proximity with an assailant as the two worst situations possible. BJJ shows the contrary though!
That's why they opt for standing combat sports because they think they are more impressive. Moreover the women's place in the Vietnamese society is still much marginalized. They have to be good looking and never try to answer".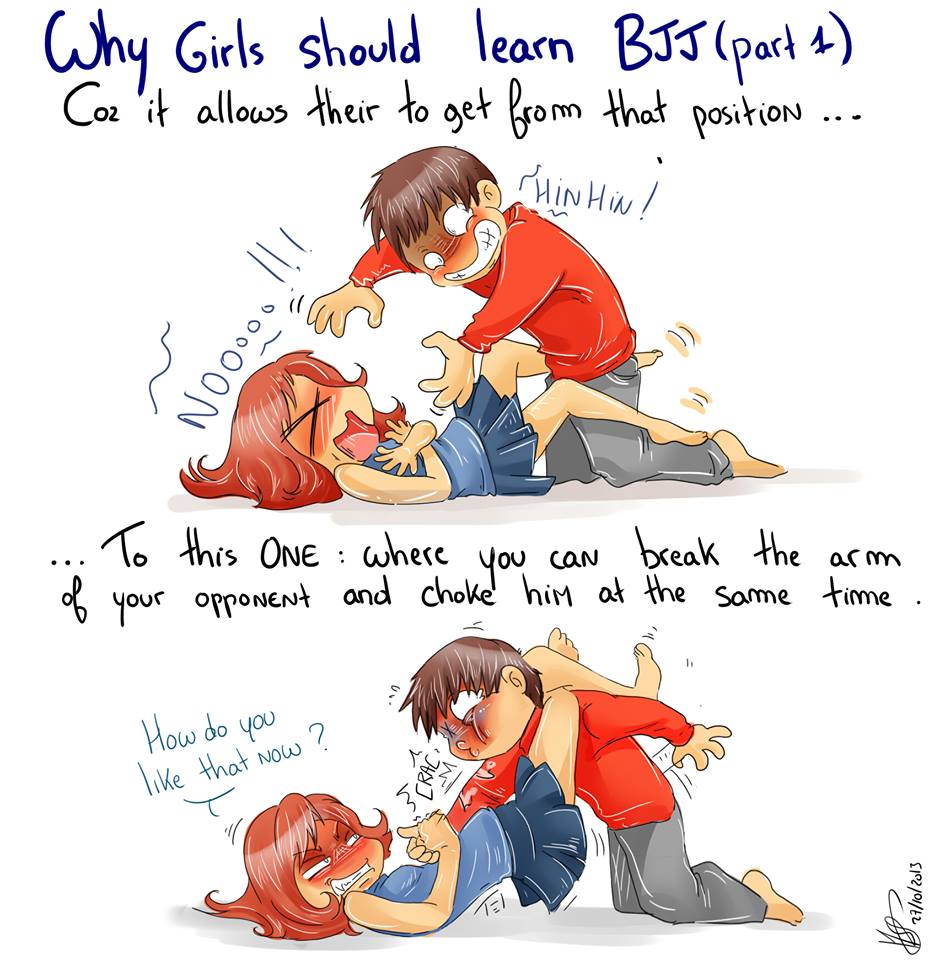 Maristé also had to face this situation. "I got several negative comments from my colleagues. They told me I shouldn't learn to fight because I am a girl. By the way the most of them think I have bruises because of a violent boyfriend and not because of BJJ practising".
This difficult Man-Woman relationship created some embarrassment when she began BJJ. During her first classes some men were awkward because they didn't want to train with a woman: they didn't want to touch an unknown woman or were too proud to train with her. "No matter their origin, men all have the same reaction: too kind at the beginning, they don't use strength until they feel that they are going to be defeated by a woman!" This situation is now over for her and Brazilian jiu-jitsu has become her second family.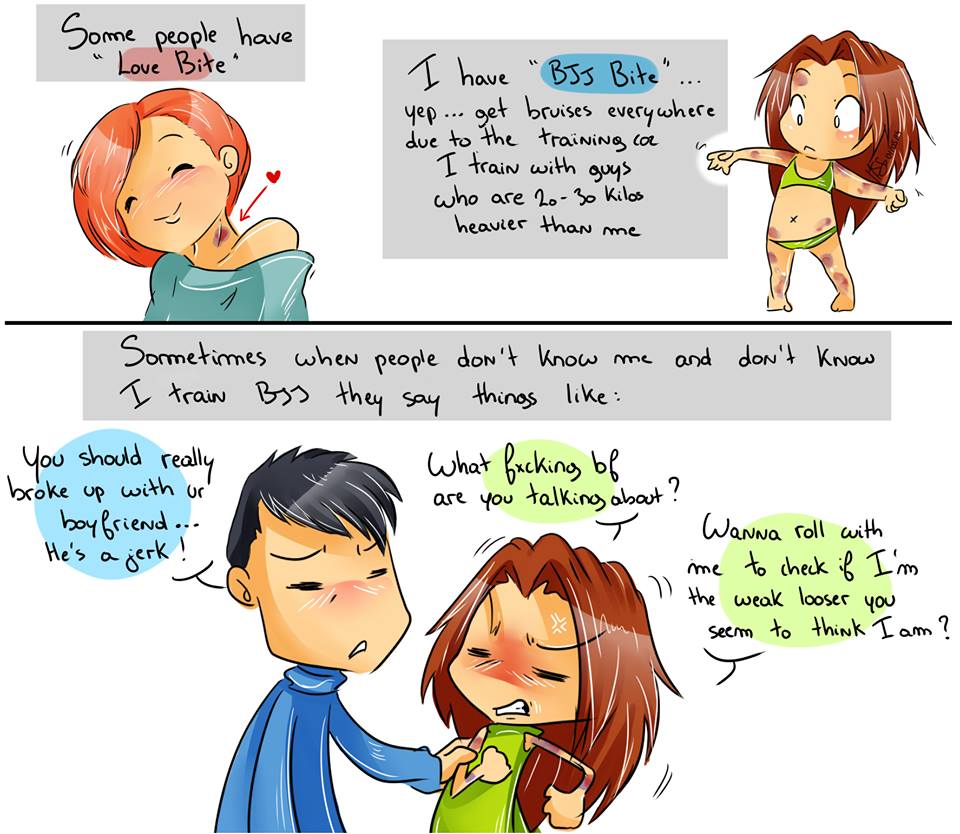 The success of her comics about BJJ
BJJ suffers from many clichés in Vietnam like everywhere else. So her comics got quickly a positive feedback from the BJJ community. She had to suffer a setback because of her success. A famous Gi brand used one of her drawings without her agreement and appropriated it by publishing the drawing with their logo on…
Meerkatsu quickly erased her deception when he offered her to promote her comics on his own Facebook page.
Using comics to promote Brazilian jiu-jitsu among women
The support of the BJJ community is a motivation to reach her goals: demystify this martial art and promote it among women. "They don't think they have their place there and I would like to change this mentality. I also would like that people stop to consider martial art practitioners as boorish people or bullies. We are like everyone else, with our strengths, our weaknesses, our friends and family". Is there anything better than humor to manage it?!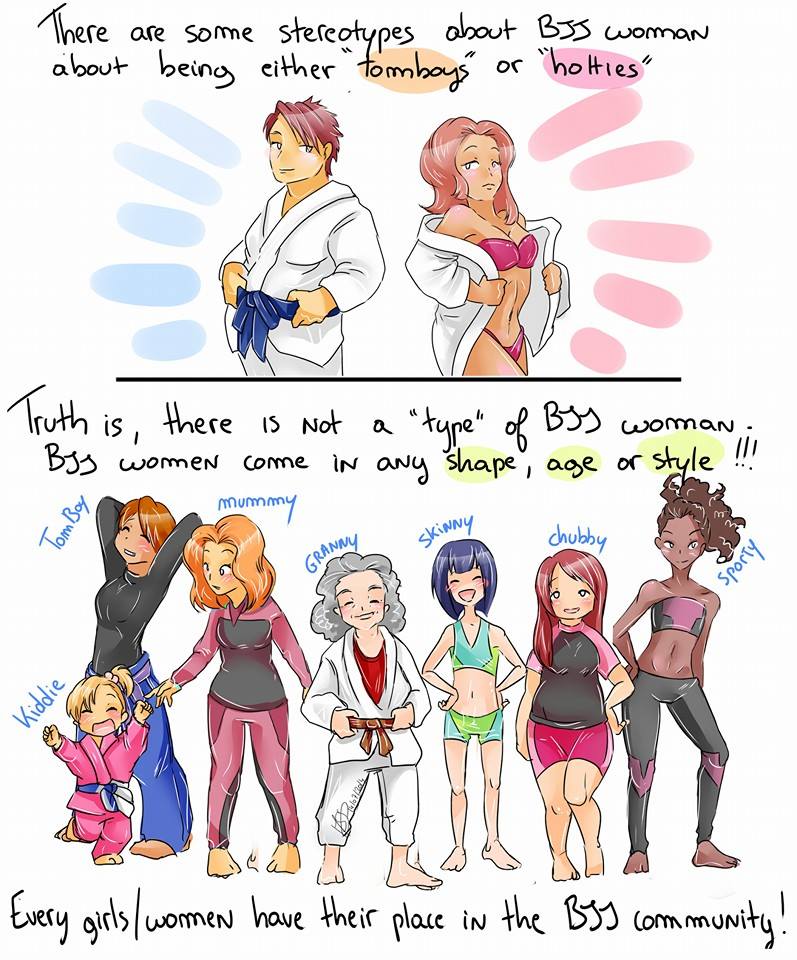 The main message she wants to convey is « stay positive and have fun! You will get good abdominal muscles to support knee on belly controls!" Moreover, "female BJJ practitioners often feel alone or not well represented. I would like to create a way to gather all female BJJ practitioners. So here is my second message: BJJ Girl! You are not alone! Hold your head high because there is a community to back you up!"