Maromba Academia: a Brazilian spirit in Melbourne
For this first opus of a series of articles about Brazilian jiu-jitsu in Australia, I take you to Melbourne to discover Maromba Academia Australia and its head coach Thiago Stefanutti.
Affected by the Brazilan jiu-jitsu virus
Thiago tells his story with simplicity and a contagious enthusiasm. After practising martial arts since his early chilhood (judo, taekwendo), his friend and futur master Paulo Streckert invited him on the mat in his Brazilian jiu-jitsu academy, Maromba Academy, located in Indaiatuba, Brazil. A good opportunity for him to improve his ground skills.
However this motivation has quickly been pushed aside. Totally captivated by this sport, he would train daily and be entirely dedicated to BJJ. With many wins as both competitor and trainer, he opened in 2004 his own academy Maromba Brothers in association with Maromba Academy.
Maromba Academy: from Brazil to Australia, a big success
The year 2010 is a turning point for Thiago. He joins his friend from Indaiatuba, Gustavo Falciroli (also a BJJ black belt and a famous MMA fighter) in Australia and creates the firts Maromba Academia Australia in Melbourne, being part of the Absolute MMA gym. In association with the team in Brazil, they teach Brazilian jiu-jitsu and MMA.
After only two years of existence Maromba Academia Melbourne counts around 200 members (and no fewer than 50 on the mat as I visited them!). A success related to the strong martial arts' establishment in Australia but moreover by Thiago's method and a dynamic and cohesive group. For beginners and intermediates, his teaching focuses on Brazilian jiu-jitsu basis which then give each fighter the possibility to develop his/her own game.
The key to such success? His students' willing and dynamism who do not hesitate to meet each other at Absolute MMA outside the classes hours especially to drill.
An important state of mind for Thiago who believes it is the cause of their good results in competition (several individual podiums and 4th rank for the team at the last Pan Pacific last October!).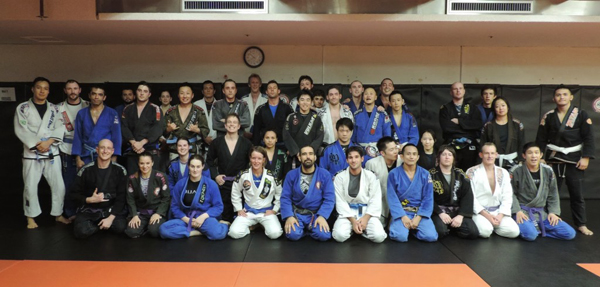 Maromba's influence is not limited to that. Appealed by Thiago's presence and dedication to his students, academies like those in Launceston, St Helens, Hobart (all located in Tasmania), Echuca, Mildura and Broken Hill joined Maromba's circle.
Maromba Melbourne, a good club for women!
Another sign of Thiago's success is the number of women on the mat: around ten for the advanced class and 50% of the No-Gi beginners' class. Being often the only one on the mat, it was simply awesome for me!

They also perform in competition at the international level (2 gold medals at the IBJJ worldchampionship, 1 silver medal at the Abu Dhabi Combat Club) and local (at the last Pan Pacifics).
The academy's culture explains this strong feminin's presence. Although Thiago had to do some preliminary work, there is now an important respect for female fighters, moreover there is no difference on the mat between fighters.
BJJ Globetrotters: a BJJ community around the world
I owe this visit at Absolute MMA Melbourne to Kane Walker, a Maromba's and BJJ Globetrotters' team member. This affiliation created by Christian Graugart group together an international community of jiu-jitsu practitioners who share values of exchange and respect.
The affiliation is free for individuals or gyms (everybody remains free to represent the academy of his choice in competition!). The objective is to encourage visiting and training together. And it works! As a member of BJJ Globetrotters, Kane (a real globetrotters who counts around 20 countries on his destinations' list) welcomed me with open arms. Values also shared by Thiago, his instructor.

Thiago's technic
Thiago now presents us a choke when the opponent is in turtle defense :
After training ?
Melbourne is the artistic capital of the country and has many entertainments: concerts and live music, sport events, museums, Aborigine and Australian modern art galleries etc. It is also a great street art hotspot. Stroll around the city center's streets to discover lanes entirely covered by grafitis!
Don't forget to try the many cafés (especially in Little Italy, my favourite), they are excellent!
Thanks to Thiago, Gustavo, Kane, Simon and all the Maromba and Absolute MMA members for the warm welcome!
See you soon, oss !