Synergy MMA : Brazilian jiu-jitsu in Bali
When talking about Bali, the first things you think about are exotic landscapes, rice fields and sweet lifestyle. However the "Island of Gods" is also a place to hit for Brazilian jiu-jitsu and MMA. To discover this part of Bali I invite you in Kuta to meet Niko Han, founder of Synergy MMA.
Synergy Jiu-Jitsu Bali
Synergy is located in the heart of the lively streets of Kuta, on the first floor of a building. The gym is fully equipped for the practice of Brazilian jiu-jitsu and MMA: punching bags, tatamis, cage… Nothing is missing!
Here is a video introducing Synergy:
With the tropical heat, I step on the mat for my first no-gi classes (in a MMA gym, I felt a bit intimidated…). Between temples visits and surf sessions, I trained there for three weeks where I met some expats, Balinese people or tourists from all around the world, gathered on the mat in a relaxed but hard-working atmosphere (boardshorts and surf rashguards are a must).
Starting BJJ and MMA with famous names
When Niko shows some techniques his first objective is the efficiency during a fight! An approach he has developed during an unusual BJJ career.
Indeed Niko started Brazilian jiu-jitsu far away from Indonesia. He left to Los Angeles to study at university and began BJJ in 1996 under Rickson Gracie. In 1997 he received is blue belt from Rickson himself. Then he trained in several academies during the years (Beverly Hills Jiu Jitsu Club, Jean Jacques Machado or Cobra Kai).
To dogmatism and authority Niko prefers open-mindedness. An essential quality "which makes constantly evolve a discipline". His motivation brought him to either get a passion for wrestling, practice boxing and practice MMA. An eclectic and a dedicated career to martial arts which led him to train with other Brazilian jiu-jitsu and MMA celebrities: Marc Laimon (who gave him his black belt), Jean-Jacques Machado, Eddie Bravo or Tito Ortiz. 
The best of martial arts is in MMA
Niko more specifically likes this « Synergy ». He is not much interested by the succession of techniques than by the execution of efficient techniques in real fighting situations.
In his classes Niko teaches some  techniques of his own and the ones used by famous MMA fighters (tested and approved!).
Here are two variations of his Indo Pretzel:
The Indo Pretzel Mount
The Indo Pretzel + Armless Tipi! Guard
Lesson n°1 in jiu-jitsu: don't forget to protect yourself
Niko has a very interesting approach. He includes striking and protection against striking in his classes (to avoid kicks while doing a foot lock for example… evident? Yes, but sometimes neglected…). I immediately could put these details in practice during theme rolling. To work on mount escape, Niko asked the one in mount position to lightly strike the head if possible (maximum 10% to 20% of strength).
This exercise was a real realization for me (do not worry; I did not end up with black eyes!). I felt overwhelmed and to be honest a bit freaked out with this new parameter. After several years of BJJ practice oriented for competition (and focused on how to score points and advantages in IBJJF rules…), I realized that I had forgotten essential reflexes like protecting my face! Isn't it the essence of jiu-jitsu?
This makes Niko and his students smile because I was certainly not the only one! Many Jiu-Jitsu practitioners visiting Synergy loose their composure with this kind of exercise (even brown or black belts!). They only protect their neck to avoid chokes and so get "unnatural" reflexes. "Punch a black belt in the face, he becomes a brown belt. Punch him again, purple…", as Carlson Gracie said.
Classes are more focused on no-gi at Synergy but learning BJJ with the gi is still very important to Niko. He thinks grips are stronger and good tools to work on techniques. No-gi is more dynamic, closer to real fighting and requires more precision.
A BJJ teaching method based on submissions
Niko uses a teaching method totally related to the reality of fighting, self-defence, and he gets away from a teaching based on "IBJJF rules". While the "classic" progression forbids the use of some techniques according on the belt division, Niko chooses to teach all submissions to students of any level. He explains the mechanism of the different submissions and trains his students to master them. So they know how to apply the pressure progressively (no need to snatch the arm when you do an armlock…), how to defend them and when to tap out before getting hurt!
Detractors will say that there are other techniques to teach to a beginner before some submissions. There are especially some bases and timings to acquire (guard passing, sweeps etc.; all teached to and mastered by students at Synergy!). However, forbidding too many techniques and forgetting to teach students how to apply pressure increases the risk of injury. Indeed, who has never met a beginner (or a rough guy…) watching too much UFC or jiu-jitsu videos on the Internet always trying to snatch your arm? Many "freshly promoted" have been injured on a submission because they didn't know how to defend it properly as it was not allowed in the lower divisions?
More than pedagogy, Niko wishes to pass a philosophy. With a larger choice of techniques this method invites to open your game. It stimulates keeping Brazilian jiu-jitsu's strengths: open-mindedness and realism (and no more frustration at training because of replies like "hey, you can't do this technique!…").
Niko Han: Brazilian jiu-jitsu and MMA promoter in Indonesia
An approach spread out in all Synergy academies (around 30 in Indonesia, 1 in China, Germany and United-Kingdom!) and in competition (Niko is also the founder of the Indonesian Brazilian jiu-jitsu and grappling federations). Referees are also trained to all kind of submissions and allowed to stop a fight if the "submitted" refuses to tap and really risks to be injured. An important point because Niko organizes submission only competitions (Gracie Rules)!
Niko is also an active MMA promoter in the area. He organizes many events and trains some good athletes. I saw Casey Suire's preparation for One FC 12 (it's impressive!). Fransino Tirta his student and instructor in Jakarta (Niko's first BJJ black belt if I am not wrong) has become an Indonesian MMA icon. Undefeated in Legend FC, he recently signed with One FC league pour a new series of fights.
Heir of Gracie's jiu-jitsu
You may have understood that meeting this fascinating person has left a mark on my stay in Bali. Niko has stayed true to his values and managed to spread the Brazilian jiu-jitsu's essence in a modern way.
A job recognized by his peers. During Rickson Gracie's last visit in Bali, he invited his former student Niko Han at his hotel for a private session of invisible jiu-jitsu, the concepts which are nowadays taught by Rickson and his son Kron Gracie. He has also asked Niko to pass this precious knowledge to his students. Oss!
Thanks a lot to Niko and all the members of Synergyfor their warm welcome!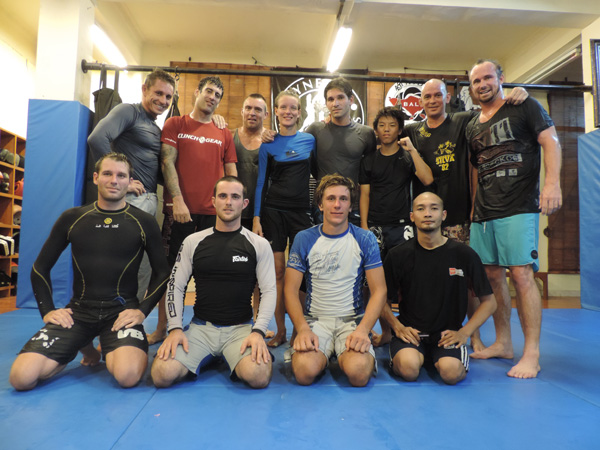 After training?
Just enjoy the Balinese lifestyle! Local food, famous massages or cares. The island offers many places to visit for temples or palaces (Uluwatu or Tanah Lot, my favourite!), or crafts (especially in Ubud). Its nature is also worth the journey! Of course Bali has awesome beaches and world-famous surf or snorkelling spots (I recommend the fisherman's village of Amed!) and beautiful rice fields. Above all don't hesitate to go away from beaten path or touristic centres like Kuta or Seminyak.