Where to practice Brazilian jiu-jitsu this summer?
Here we go, it's summertime! You will probably be on holiday soon and that also means the end of the BJJ classes. So where could we train this summer?
Training Brazilian jiu-jitsu in France during summertime
In France you have to know that during this period it's the "Grandes vacances". What's that? Literally translated it means "big holidays" and it's the name for the two month of summer school vacations. Yes, two months! So the whole of France takes a slower rhythm of daily life: parents take their summer vacation too, administrations and enterprises slow down. You may ask what the link is between that and BJJ?
In France most of the BJJ gyms are non-profit associations which evolve in public places provided by local councils. So these places are completely or partly closed during summertime. Thousands of Brazilian jiu-jitsu practitioners are then abandoned like the homeless without a place to train… Fortunately some clubs are still open because they are hosted in a private structure or because the rental obligations are more flexible.
Where can I find a BJJ club in France this summer?
In addition to your own research on the Internet, you will find on the French Brazilian Jiu-jitsu Confederation's website a list of affiliated gyms, classified by region. You can also find the French affiliates on the BJJ Globetrotters website. The French magazine Jits.fr establishes each year a very useful list of gyms open during summer.
Useful advice:
Contact the gym you want to visit to get all this information about classes during summertime. You will also get a warmer welcome if you announce your visit.
What is BJJ Globetrotters?
Those who follow me know that I like to do Brazilian jiu-jitsu while I am traveling. That's why I am a member of this affiliation which is like a community of people helping each other and exchanging information about BJJ. How does it actually work?
The affiliation is free: you just have to share the same values.
You have to welcome anyone who wishes to train, regardless of their affiliation.
You never deny members to go train somewhere else.
And give at least one week of free training for traveling BJJ Globetrotter members.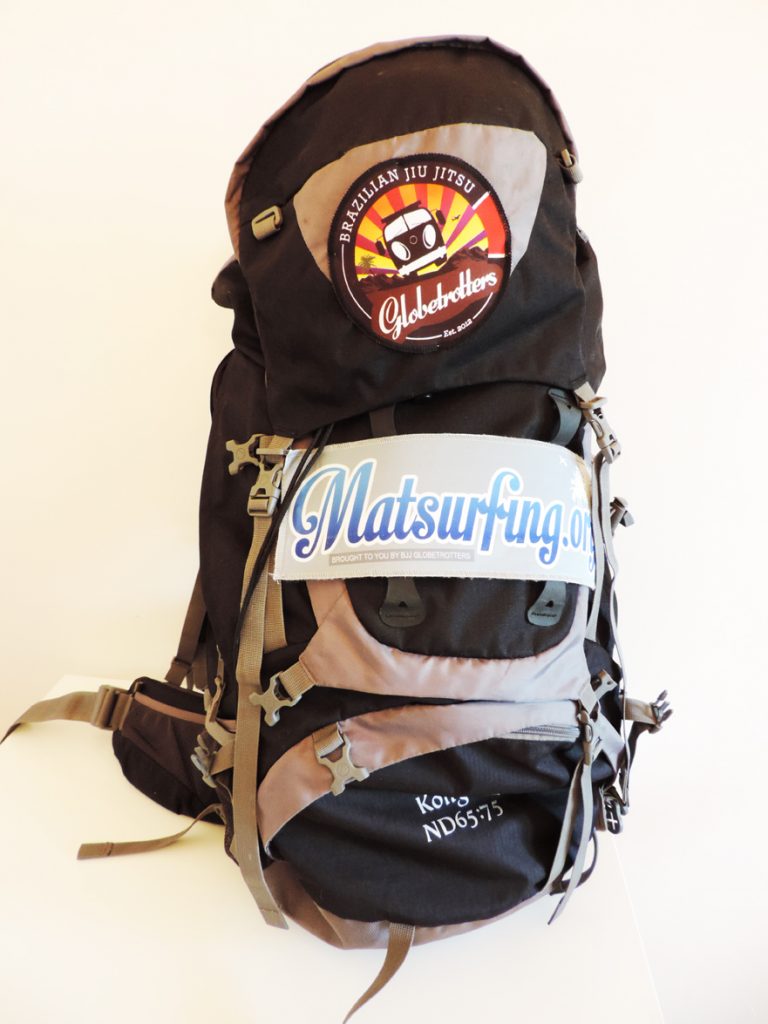 This community is settled all around the world. On its website you find all the affiliated gyms and individual members. Once you're affiliated you would be able to get in touch with them and will plan your trainings all over the world.
Since a few years it has also developed the concept of mat surfing. Like couch surfing this service matches hosts and travelers who practice Brazilian jiu-jitsu.
Brazilian jiu-jitsu summer camps
A BJJ made melting pot
For those you want to go further, there are training camps in more or less far-off destinations. You can spend an entire week training and meeting people from all around the word. That's also a BJJ Globetrotters specialty. It organizes surf and BJJ camps in St Barthelemy (a Caribbean Island) or in Salvador, a BJJ camp in Leuven – Belgium (more than 300 participants last year), in Copenhagen – Denmark, in the State of Maine in the USA, or even a yoga and BJJ camp in Poland. In winter, there's a skiing and BJJ Camp in Austria.
Train with great Brazilian Jiu-jitsu stars
During summertime high level competitors also take a break. An occasion for them to teach seminars or camps all around the word (and make some money too). For example, Leonardo Vieira will be the main instructor in a summer camp in Zadar – Croatia,  while Richie and Geo Martinez will be in Cyprus. You even have a specialized organizer like BJJ MMA which has a team of BJJ stars as instructors like McKenzie Dern, Gezrai Matuda, Buchecha, Leandro Lo and many others.
And for those who stay at home, what about solo drills?
If you don't know a charitable soul who also has some square meters of mat at home and who would welcome you to train, there are solo drills. You only need some space in your living room for that. These specific BJJ movements and repetitions will allow you not to get stiff during summer by working on your mobility. You will find in the video below some examples by Jason Scully:
If you don't live in a tiny flat and if you're equipped, here are some additional exercises with a heavy weight bag:
And if you have a lot more space, improve your stability and your mobility with a gym ball with these exercice by Jeff Glover:
Add some running or swimming and you will be fit when BJJ will start over!
What about doing a BJJ break during holidays?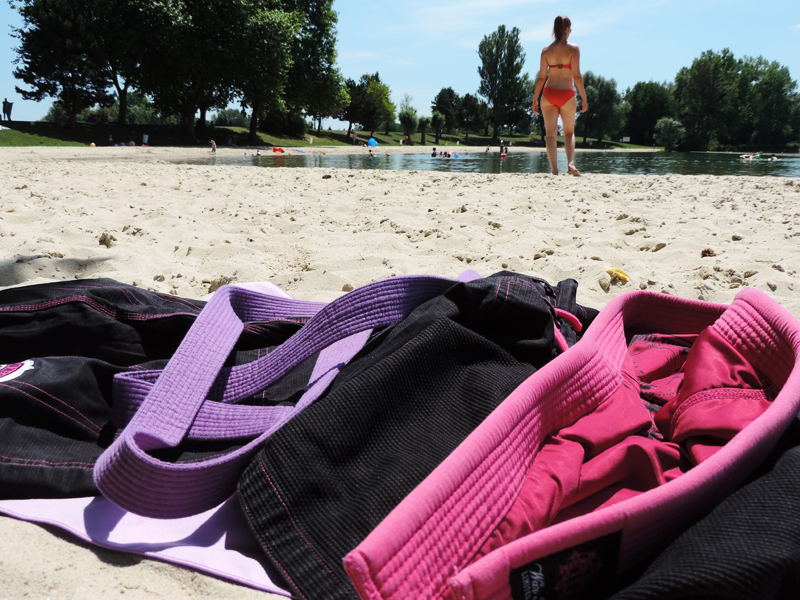 Of course summer is also the moment to open your mind to other sports and to do a well earned break after fulfilled season. With these nice days it is easier to get the motivation to swim or run. Activities like yoga, fitness are organized in parks: a way to take your mind off things.
Indeed don't forget that resting is also a part of the training. So don't feel guilty if you take a break.
Many thanks to my friend Carina who helped me for this article.